Stone's Hearing Aid Service

Where Your Hearing is Our Concern
| | |
| --- | --- |
| Posted on March 11, 2015 at 11:22 PM | |
Spring Cleaning; It is not just for your home….It is for your Hearing Health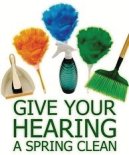 Window washing, dusting, yard work, car washes, organizing, cleaning out the cabinets; these are all activities that seem to emerge every spring.  The spring season is an important time of the year that allows us to clean up some of the dirt and grime, that has accumulated during the winter months, and start again, clean and fresh.  
As spring rolls around, we often take on the dirtier nooks and crannies of our homes and vehicles. However, you may not realize your hearing aids could use the same attention. Proper hearing aid care helps maintain optimum hearing, extends the life of your hearing aid and ensures healthy ear hygiene. 
Dirt, oil, moisture and earwax can build up on your hearing devices, clogging the tube that sends sound to your ears. This can affect the hearing aid's performance which is why it is important to clean them daily and if it has been more than three months since you have had a professional cleaning, they probably are due for a good spring cleaning.
Whether you are a current patient of
Stone's Hearing Aid Service
or you have never been to our office before, please come in to receive a FREE hearing aid cleaning and check and if you wish a FREE hearing evaluation as it is important to occasionally check your hearing to determine if your needs have changed since you last visited our office.
Start spring off fresh with a cleaning, new tubes, new battery or maybe even a new set of hearing aids! We offer many upgrade and trade-in deals for our hearing aids.
Bring your hearing aids in for a professional cleaning and don't miss any of those spring sounds. No appointment is needed; walk-ins are always welcome as our doors are always open with Mark and Matt always "home" at Stone's Hearing Aid Service, where your hearing is our concern. 
Stone's Hearing Aids
51 High Street Pottstown, PA 19464
610-326-1250
Categories: Buy local By local, Hearing Health, Hearing Loss
/