Stone's Hearing Aid Service

Where Your Hearing is Our Concern
| | |
| --- | --- |
| Posted on October 24, 2013 at 5:37 PM | |
Understanding the Hearing Evaluation and Hearing Aid Process – Part 1 of 4
How often should I get a hearing evaluation?
Hearing evaluations should be conducted once every ten years through age 50 and at 3-year intervals thereafter. If you have any risk factors, particularly occupational or recreational noise exposure, they should be screened as needed, required by law in the workplace (OSHA, 1983), or if you suspect that you might have a hearing loss. In addition to noise exposure, other risk factors for hearing loss in adults can include heredity; viral or bacterial infections; medications, such as aspirin and chemotherapy drugs; and head injuries.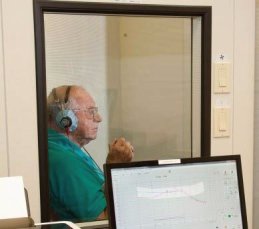 A hearing evaluation is no doubt very useful for those who have even a trivial uncertainty about the accuracy of their hearing. If you have a distressing feeling that one or both of your ears may have a problem, please contact us at Stone's Hearing Aid Service for your free hearing evaluation.
What is an audiologic screening program?
An audiologic screening program consists of 3 simple, fast procedures to determine if a person may have or is at risk for hearing loss:
1. Screening for hearing loss (impairment)
2. Screening for ear disorder
3. Screening for hearing-related disability
The entire audiologic screening process does not usually take more than 10 minutes. When these three components of an audiologic screening program are completed, you are identified as either having normal hearing or being at risk for or suspected of having a hearing loss, and referred for comprehensive audiologic evaluation. Ten minutes is a small investment of time and energy to help protect your ears and possibly your future communication ability.
A medical evaluation may be recommended if the screening indicates a medical condition requiring evaluation, monitoring, and/or treatment. A medical referral will be made, for example, if the visual inspection of the ear reveals that the ear canal is blocked by cerumen (ear wax), or if pain or drainage is present.
Your ears are one of your most important "natural resources" to protect and conserve. Have of your hearing screened today.
At Stone's Hearing Aid Service, "Your Hearing is Our Concern". That is why we offer free hearing evaluations both in office with our state of the art stationary audiometer and sound proof room or, for those whom are unable to come to our office, we offer free in home evaluations with our portable audiometer system.
Stone's Hearing Aid Service has been Family Owned and Operated since 1885 serving the Pottstown and surrounding communities.
Categories: Buy local By local, Hearing Health, Hearing Loss
/