Stone's Hearing Aid Service

Where Your Hearing is Our Concern
| | |
| --- | --- |
| Posted on June 20, 2013 at 7:30 AM | |
The Impact of Treated Hearing Loss on Quality of Life
(Pt 2 of 3)
RESEARCH ON THE POSITIVE IMPACT OF HEARING AIDS ON QUALITY OF LIFE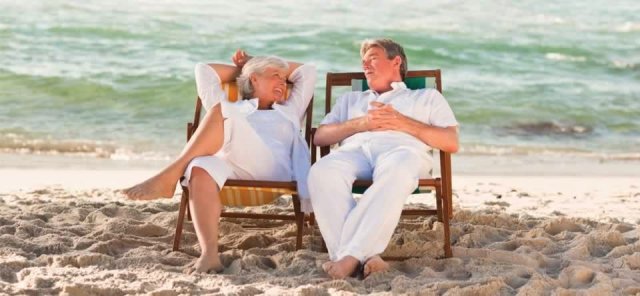 Following are the results of the largest study in the world conducted on the impact of hearing aids on quality of life. After reading this, we hope you agree that hearing aids when successfully fit to your unique audiological needs, have the potential to literally transform your life.
Utilizing the famous National Family Opinion Panel (NFO) in 1997, a short screening survey was mailed to 80,000 panel members to find a representative sample of people with hearing loss in the United States. This short survey helped identify nearly 15,000 people with self-admitted hearing loss. The response rate to the screening survey was 65 percent. Since 1989, research has been conducted in this manner on more than 25,000 people with hearing loss and the findings have been under the generic name "MarkeTrak." Working with the National Council on the Aging, a sample of 3,000 individuals with hearing loss ages 50 and over were randomly drawn from the MarkeTrak hearing loss panel. Equal samples of 1,500 hearing aid owners and non-owners were drawn from the panel. What is unique about this study is that people with hearing loss, as well as their significant other (usually the spouse), were studied.
Extensive questionnaires were sent to both the person with the hearing loss and the spouse or family member. The number of questions was 300 and 150 respectively. The comprehensive survey covered a myriad of topics including: self and family assessment of hearing loss, psychological well-being, social impact of hearing loss, quality of relationships, life satisfaction, general health, self and family perceptions of benefit of hearing aids (wearers only) , reasons for purchasing hearing aids (wearers only), reasons for not purchasing hearing aids (non-wearers only) , and attitudes toward hearing health and hearing aids. In addition, a number of personality scales, which were deemed relevant to this study, were included in the survey.
After analyzing the returned surveys for usability (e.g. minimal missing information, hearing aid owners who wear their hearing aids) the final sample sizes for respondents with hearing loss and family members were reduced to 2,069 and 1,710 respectively. Thus, this study involved nearly 4,000 people.
The goal of the study was to determine if hearing aids had an impact on hearing loss independent of hearing loss. In other words, do people with mild hearing loss derive as much benefit as individuals with more serious hearing losses? As part of the research design, in addition to quality of life items, a paper and pencil assessment of hearing loss was administered with the anticipation that the results of this assessment would be used to control for hearing loss when comparing the quality of life of hearing aid wearers and non-wearers.
The key hearing assessment tool used was the Five Minute Hearing Test (FMHT) by the American Academy of Otolaryngology-Head and Neck Surgery. The FMHT is a fifteen-question test measuring self-perceived hearing difficulty in a number of listening situations (e.g. telephone, multiple speakers, television, noisy situations, reverberant rooms), as well as self-assessments of some signs of hearing loss (e.g. people mumble, inappropriate responses, strain to hear, avoid social situations). Previous research has determined that the FMHT is significantly correlated with objective audiological hearing loss measures.
Based on hearing difficulty scores, all subjects in this study were grouped into five equal size groups (20 percent each-called quintiles). These ranged from quintile 1 (the 20 percent of respondents with the mildest hearing loss as measured by the FMHT) to quintile 5 (the 20 percent with the greatest hearing loss). The quintile system was utilized for all analysis as a means of controlling for differences in hearing loss between the hearing aid wearer and non-wearer samples. The use of these quintiles allowed the researchers to achieve more valid comparisons between samples of hearing aid wearer and non-wearers.
If the responses of all hearing aid wearers with those of all non-wearers were compared without regard to degree of hearing loss, the findings would have been misleading, and even erroneous. For example, it is widely known that incidence and degree of depression have been found to increase with severity of hearing loss. Thus, even if people with severely hearing loss experience reduced depression after getting hearing aids, they might still report more depression than non-wearers overall, since hearing aid wearers tend to have more severe hearing loss. However, when hearing aid wearers are matched with non-wearers in the same quintile (non-wearers having a fairly similar degree of hearing loss), the differences between them better reflect the potential impact of the hearing aids rather than the effect of their degree of hearing loss.
While there is no audiological basis for labeling hearing loss associated with each quintile group, the researchers did find an excellent correlation between self-perceived loss (e.g. mild to profound hearing loss) and the FMHT test. As we discuss the findings of this study with respect to the five hearing loss groups, it's appropriate to consider people in quintile hearing loss groups 1, 3 and 5 as having respectively a "mild," "moderate," and "severe /profound" hearing loss; group 2 is between mild and moderate hearing loss while group 4 should be viewed as between moderate and severe hearing loss.
RESEARCH FINDINGS
Following is a systematic evaluation of the impact that hearing aids have on quality of life. This will be done by comparing the responses of hearing aid wearers and non-wearers while controlling for hearing loss. As you evaluate the impressive findings below keep in mind the following:
The devastating impact of hearing loss on quality of life is well-documented;

Quality of life is primarily impacted by the fact that uncorrected hearing loss results in reduced speech intelligibility;

Hearing aids when fitted correctly improve speech intelligibility and therefore can restore your ability to function more effectively in life.
DEMOGRAPHICS & HOUSEHOLD INCOME.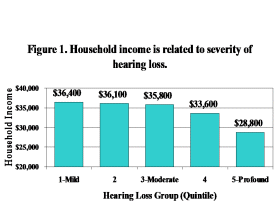 It should be recognized that in most respects the five hearing loss groups were well matched on key demographics: gender, marital status, employment status, and age. A striking trend was discovered when evaluating household income by level of hearing loss. Income is significantly related to both hearing loss and hearing aid usage. Figure 1 shows there was close to an $8,000 difference between those with mild hearing loss (quintile 1) and those with profound hearing loss (quintile 5). Note that income drops significantly only for severe to profound hearing loss groups
(4 and 5-the top 40 percent of individuals with hearing loss).
Compared to non-wearers, there was a $13,000 a year difference between the mild and profound hearing loss groups. The differential for hearing aid wearers was much less severe ($7,000). Hearing aids appeared to have a positive impact on household income, but only for individuals whose hearing loss was in the higher 60 percent (moderate-profound). People with a moderate to profound hearing loss, who did not use hearing aids, on average, experienced household incomes $5000-$6000 less than their counterparts who did use hearing aids. This is despite the fact that the higher hearing loss non-wearer groups tended to be employed slightly more often.
Hearing aid wearers also reported that they have plenty of discretionary income more often than non-wearers. For example, 22 percent of group 5 (profound hearing loss) hearing aid wearers reported they had plenty of discretionary income compared to only 8 percent of non-wearers. The discretionary income differential for samples with more severe hearing loss was a likely cause of the lower earning power. Because of higher hearing disability levels, communication is probably impacted, resulting in lower income and therefore less earning power. Finding a solution to their hearing loss is exacerbated for these groups, in that lower earning power means that the respondent was less likely to be able to afford a hearing aid to correct the hearing loss.
ACTIVITY LEVEL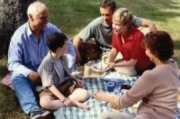 Respondents were asked to indicate the extent (times per month) to which they engaged in thirteen activities in a typical month. Six of the activities were solitary in nature while seven involved other people. Total solitary and social activity scores were calculated. Hearing aid wearers were shown to have the same level of solitary activity as non-wearers. However, hearing aid wearers were more likely to engage in activities involving other people. They were shown to have significantly higher participation in three to four of the seven activities measured. Four out of five quintile hearing aid wearer groups indicated they participated more in organized social activities while three out of five of the hearing loss groups reported they were more likely to attend senior centers if they were hearing aid wearers. The most serious hearing loss group (quintile 5) reported greater participation in four out of the seven activities if they were hearing aid wearers.
INTERPERSONAL RELATIONS
The survey asked 12 questions concerning the respondents' quality of interpersonal relationships with their family using a four-point scale. Twelve questions concerned negativity (e.g. arguments, tenseness, criticism) in the relationship. We found that interpersonal warmth in relationships significantly declined as hearing loss worsened. Hearing aid wearers in quintiles 1-3 (mild to moderate) were shown to have significantly greater interpersonal warmth in their relationships than their non-wearer counterparts. Also, significant reductions in negativity in family relationships appeared to be associated with hearing aid usage in quintiles 1 and 2-the hearing loss groups with the mildest hearing disability.
SOCIAL EFFECTS
Forty-seven items in the survey assessed the social impact of hearing loss and hearing aid usage. The majority of the items were scored on a five-point scale taking the values "strongly agree" to "strongly disagree." Average monthly contact with family and friends by phone and in person was also assessed.
The stigma of hearing loss was shown to increase as hearing loss increased. All five non-wearer groups reported they would be embarrassed or self-conscious if they wore hearing aids, while all five wearer groups reported lower stigmatization with hearing aids. The conclusion is not, of course, that usage of hearing aids would lead to reduced stigma; most likely hearing aid wearers have resolved their concerns about the stigma associated with hearing aid usage more so than their non-wearer counterparts.
As hearing loss increased, respondents were more likely to overcompensate for hearing loss by pretending that they heard what people said, by avoiding telling people to repeat themselves, by avoiding asking other people to help them with their hearing problem, by engaging in compensatory activities such as speech reading, or by defensively talking too much to cover up the fact that they could not hear well.
All five hearing aid wearer groups reported significantly lower overcompensation scores. The greater the hearing loss, the greater was the likelihood that respondents reported they were the target of discrimination. The greater the hearing loss, the greater the likelihood that respondents with more serious hearing losses were accused of hearing only what they wanted to hear, found themselves the subject of conversation behind their backs, were told to "forget it" when frustrated family members were not heard the first time, and so on. All hearing loss groups except quintile 1 (the mildest hearing loss) reported significant reductions in discriminatory behaviors, if they were hearing aid wearers.
A strong relationship between hearing loss and family member concerns of safety (e.g. cannot hear warning signs, instructions from doctor, made a serious mistake, not safe to be alone) was found, as well as significant differences between hearing aid wearers and non-wearers. Respondents also agreed that safety concerns increased as hearing loss increased.
The data however, indicated that safety concerns were significantly higher among hearing aid wearers than non-wearers in quintiles 1-3. Perhaps the realization that mistakes were being made or that unaided hearing loss could result in possible injury, motivated the current hearing aid owner to purchase hearing aids. This explanation is consistent with the findings from previous MarkeTrak research, which indicated that the number one motivation to purchase hearing aids was "the realization that their hearing loss was getting worse."
There were a number of social effects that were correlated with hearing loss but were not impacted by hearing aid usage. These were negative effects on the family (e.g., "I find it exhausting to cope with their needs"), family accommodations to the individual with hearing loss (e.g., "I have to use signs and gestures a lot of the time"), rejection of the person with hearing loss (e.g., "They tend to get left out of social activities because of their hearing loss"), and withdrawal (e.g., "They tend to withdraw from social activities where communication is difficult"). In addition, hearing aid usage was not associated with increased phone or in-person contact with family or friends.
THE EMOTIONAL EFFECTS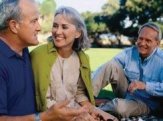 Eighty items in the survey dealt with the emotional aspects of hearing loss. All five hearing aid wearer groups scored significantly lower in their self-ratings of emotional instability. In agreement with their family members, they were less likely to be tense, insecure, unstable, nervous, discontent, temperamental, and less likely to display negative emotions or traits. Four of the five hearing aid wearer groups reported significantly reduced tendencies to exhibit anger (e.g., "I sometimes get angry when I think about my hearing") and frustration (e.g., "I get discouraged because of my hearing loss"). In agreement, family members observed significantly less anger and frustration in all five hearing aid wearer groups.
The average reduction in depression associated with hearing aid usage across all five groups was 36 percent. All five hearing aid wearer groups reported significantly lower depressive symptoms (e.g., tired, insomniac, thinking of death) while four of the five hearing aid wearer groups (quintiles 1-4) reported a significantly lower incidence of depression within the last 12 months compared to their non-wearer counterparts.
Hearing aid wearers in quintiles 2-4 reported significantly lower paranoid feelings (e.g., "I am often blamed for things that are just not my fault"). Not surprisingly, in agreement with family members, all five non-wearer groups scored higher on denial when compared to hearing aid wearers (e.g., "I don't think my hearing loss is as bad as people have told me").
Family members and respondents were asked to indicate if the person with the hearing loss exhibited anxiety, tenseness or if they worried for a continuous period of four weeks in the previous year. In addition, they were asked to indicate if they experienced anxiety symptoms (e.g., keyed up or on edge, heart pounding or racing, easily tired, trouble falling asleep). Three of the five non-wearer groups (1, 3, 5) exhibited higher anxiety symptoms. In addition, three of the five non-wearer groups (1, 2, 5) exhibited more social phobias than non-wearers of hearing aids. Reduction in phobia and anxiety associated with hearing aid usage would appear to be more pronounced in individuals with serious to profound hearing losses (Quintile 5).
Factors not appreciably impacted by hearing aid usage in this study were: sense of independence (e.g., burden on family, answering for the person with hearing loss) and overall satisfaction with life. Although not as conclusive as some of the previous factors, non-wearers reported that they were more self-critical (e.g., "I dwell on my mistakes more than I should") and had lower self-esteem (e.g., "All in all, I'm inclined to feel that I am a failure"). Hearing loss was found to be highly correlated with self-criticism. There is also some evidence, though not as strong as other correlates of hearing aid use, that non-wearers were more critical of themselves (Quintiles 1, 3, 5).
To be continued in a following blog posting
Categories: Hearing Health, Hearing Loss
/