Stone's Hearing Aid Service

Where Your Hearing is Our Concern
| | |
| --- | --- |
| Posted on March 20, 2013 at 8:50 PM | |
Hearing of Family Tradition
Stone's Hearing Aid Service is not only about hearing aids, we are also about family, with being a family owned and operated business for 128 years, we consider all of our patients and our community our family too. That is why when we hear of something special from our family, we like to share it. 
We all recollect certain moments and times of our childhood that we will cherish forever. Almost all of these memories in one form or another were a tradition. These family traditions are sadly one of the great casualties of modern times. As families have more time constraints due to careers, become focused on team sports, are more fragmented and disengaged, there is less time and opportunity to benefit from the traditions that were formerly a natural part of family life. The present households often has a TV and/or computer in every room, so even a small custom like all sitting down to eat dinner, doing homework together or playing a favorite family game may just not happen as often as it once did.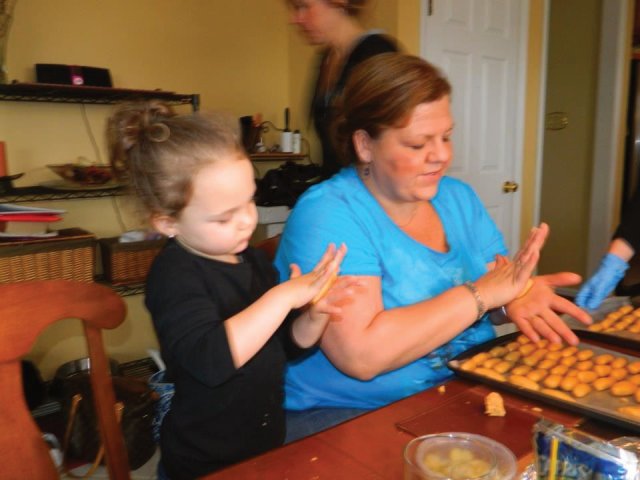 Recently a photo appeared that melted our hearts, it was a photo of one of our Stone's
family
,   Jane Marie Swavely, Assistant Director of Nursing at
The Meadows at Shannondell in Valley Forge
, PA and her daughter Katie enjoying making peanut butter eggs with family members. 
We spoke with Jane Marie about how special of a moment this was to capture and how important instilling family time and tradition is. Jane Marie stated "It is not about what we do, it is about doing it together, that is something I try to instill in my children" 
"My traditional values were instilled by my mom and dad, my parents were stellar about tradition", stated Swavely. "I am almost 40 years old, and I will be disappointed the Christmas that I do not get matching jammies from my mom. I want my children to be just excited about spending time with their family. Working at Shannondell contributes to family value, I love working with the elderly and I love that my children are comfortable around them and respect them as we were raised."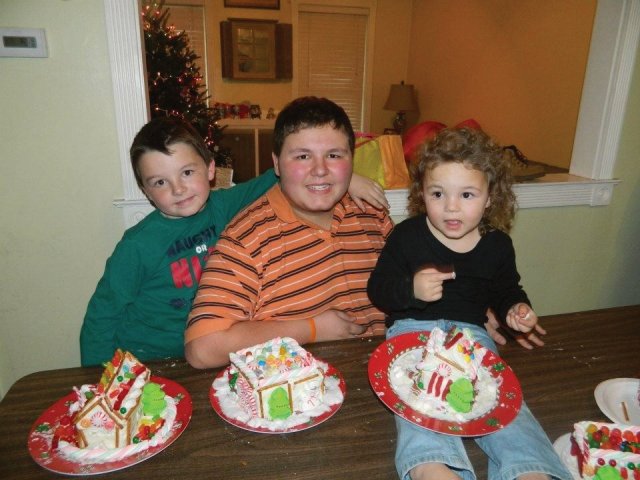 Jane Marie's photos and statements reminded use at Stone's Hearing Aid Service that the holiday seasons once largely were a time for family traditions; however, it is not necessary to restrict traditions to just this time of the year. Sometimes holiday festivities are a good way to kick start a tradition that can become seasonal favorite or that can be incorporated into family life year round. 
In the twenty first century, family life looks a lot different than it did fifty, twenty or even just ten years ago. Parents' chaotic work schedules may mean that eating as a family, taking a family walk, or going on a day trip are sometimes impossible. Family vacations involve a military approach with planning just to get everyone together and the holiday season, once a season overflowing with adoring, meaningful, family traditions, all too often involves a painful and complex process of trying to balance which of two divided families gets their children when and for how long. 
Many of us remember and miss the modest rituals that shaped the foundation of our own childhood, yet do not see feasible way to fit them into a life that is so dissimilar from the ones that of our parents when we were growing up. 
Family traditions can be a way to reconnect and create a much needed sense of belonging, and for those no longer part of a "traditional" family set-up, setting traditions can be even more important. Traditions do not have to be time-consuming efforts; it is worth taking a moment right now to reflect on the fact that spending time together is what family traditions are all about and the memories that will be made will be memories of a lifetime. 
Fitting traditions to your family 
There is no "one size fits all" solution to today's increasingly intricate family situations. Fit your traditions to your family style and diversity as well as the people in it. If you only see your children once a week, that in itself can be a tradition, certainly you do not miss out on seasonal traditions, even if you do not always celebrate them on the exact day. To discover traditions that fit your family you have to include everyone, and make it meaningful for every family member. This can be a particular challenge with large or blended families. Make it fun, experiment to discover activities that appeal to everyone, and where everyone can play a part. If family games night falls flat, change the games. If family meals, outings or vacations are not greeted with enthusiasm try to find out why. Involve every family member in trying to identify regular activities you would all enjoy, and then work on building them into family traditions. 
Resurrecting old traditions 
Think back to your childhood. Did you love that first day at the beach each summer? Picking strawberries each spring at a local farm? Picking out a Halloween pumpkin or a Christmas tree? Flying your kite on windy fall days? Fishing by the river on a Sunday morning? Having a special breakfast weekend mornings?
If you came from a family where tradition was not practiced, borrow from others and create your own. Read up on different traditions that have been popular at different times throughout history, in your own country and around the world. Be inspired by the old, but don't be afraid to put a new twist on it if that suits your family. 
We would like to thank Jane Marie and her family for the lovely story and reminding us what the meaning of family and tradition means.  
Categories: Buy local By local
/