Stone's Hearing Aid Service

Where Your Hearing is Our Concern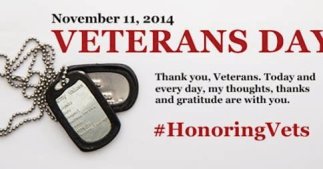 On November 11, 2014 Stone's Hearing Aid Service will be celebrating Veterans Day by giving back to the men and women who have and are serving our country by offering veterans two options: Veterans who are new customers of Stone's Hearing Aid Service may come in for a FREE hearing evaluation, at the time of the evaluation if it is discovered that a hearing device is needed they will be offered a 10% discount on their purchase. Current Stone's Hearing Aid customers who are veterans will be offered a FREE hearing evaluation and FREE tube cleaning and inspection of current hearing devices. Stone's Hearing Aid Service will have their doors open for walk-in's on November 11, 2014 from 9:30-4:30. Walk-in's are always welcome at Stone's Hearing Aid Service, not just for Veteran's Day, but every day as Stone's values their patients and values their open door policy for all.
 Serving the Pottstown and local surrounding community since 1885, Stone's Hearing Aid Service offers first hand one on one service to new and current patients. Partners Mark Shanta and Matthew Dailey ensure that they provide personalized care to individuals and nursing homes on a routine basis.
Shanta and Dailey both strongly believe in assisting military veterans and their hearing needs.  Dailey is a U.S. Marine Corps veteran of ten years and Shanta's uncle, Bill Stone (the third generation owner of Stone's Hearing Aids) served in the U.S. Army during WWII in the South Pacific, being severely burned and wounded during the battle of the Philippines, and Shanta's father, former Pottstown Police Chief, Mike Shanta, served in the U.S. Army during WWII fighting from Africa, D-day, through Europe.
Founded in 1885 Stone's Hearing Aid Service has been serving customers for over one century on High Street in Pottstown. Mark Shanta is the fourth generation in the Stone family to work in the business, with Matt Dailey joining the team in 2006. Matt and Mark pride themselves on commitment to their community, prompt customer service, reliability, and special attention to patient needs.
Stone's Hearing Aids
51 High Street Pottstown, PA 19464
610-326-1250
/